Eileen Spadoni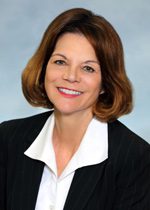 Practice Areas
Civil Litigation
Employment Law
Business Law
Civil Litigation
Employment Law
Business Law
Civil Litigation
Employment Law
Business Law
Education
University of California, Los Angeles, 1987, J.D.
University of California, Irvine, Universidad Complutense de Madrid, Spain, & Université de la Sorbonne France (1982, A.B. Spanish, Phi Beta Kappa & 1983, A.B. French, Magna Cum Laude)
Ms. Spadoni completed exchange programs at the Universidad Complutense de Madrid, Spain, and the Sorbonne Université, France, before graduating from the University of California, Irvine, with Bachelor of Arts degrees in Spanish (Phi Beta Kappa) and French (magna cum laude). Ms. Spadoni obtained her Juris Doctor degree from the University of California, Los Angeles, in 1987, where she was twice awarded the Beverly Hills Bar Association Scholarship, as well as the Manuel Gonzalez Memorial Scholarship.
Following a clerkship with the Honorable Hector Laffitte, Chief Judge, U.S. District Court for the District of Puerto Rico, Ms. Spadoni entered private practice in Southern California. She has substantial experience in mediations and arbitrations and has tried verdict cases in the Counties of Orange, Los Angeles, Riverside, and San Francisco.
Ms. Spadoni handles civil matters with an emphasis on employment and business law and is experienced in administrative proceedings, litigation, trials, and appeals. Ms. Spadoni has also represented clients in employment matters before state agencies such as the California Labor Commissioner and the Department of Labor Enforcement Standards.
Ms. Spadoni is also a frequent presenter on employment-related issues, including the following speaking engagements:
September 20, 2016 – ProVisors Panel, "Cannabis in California."
July 18, 2017 – ProVisors Panel, "Common Mistakes Law Firms Make as Employers."
September 28, 2017 – OCTLA Panel, "Spotting Employment Law & Worker's Compensation Issues in Your Personal Injury Cases."
October 19, 2017 – OCBA Panel, "Cannabis Law: Advising OC Clients in the Green Rush."
Ms. Spadoni is licensed to practice law before all state and federal courts of the state of California, as well as the Ninth Circuit Court of Appeal.
Disclaimer
©2023 Wesierski & Zurek LLP. All Rights Reserved. The material and information contained on these pages and on any pages linked from these pages are intended to provide general information only and not legal advice. You should consult with an attorney licensed to practice in your jurisdiction before relying upon any of the information presented here. The acts of sending emails to this website or viewing information from this website do not create an attorney-client relationship. The listing of verdicts, settlements and other case results is not a guarantee or prediction of the outcome of any other claims. A LawPromo Web Design