Kathryn Harvey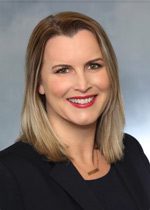 Practice Areas
Business Litigation
General Civil Litigation
Personal Injury
Insurance Defense
Legal Malpractice
Breach of Contract
Trade Secrets
Consumer Protection
Class Actions
Business Litigation
General Civil Litigation
Personal Injury
Insurance Defense
Legal Malpractice
Breach of Contract
Trade Secrets
Consumer Protection
Class Actions
Business Litigation
General Civil Litigation
Personal Injury
Insurance Defense
Legal Malpractice
Breach of Contract
Trade Secrets
Consumer Protection
Class Actions
Education
University of San Diego, 2005, J.D.
San Diego State University, 1999, B.S. in Social Science for Education
Kathryn Harvey is a seasoned attorney, practicing for over a decade in the areas of civil and business litigation. In her time as a litigator, Ms. Harvey has represented a wide range of clients in both state and federal court from both a Plaintiff and Defense perspective. A true advocate for her clients, Ms. Harvey has litigated in such diverse areas of law as a breach of contract, 17200, consumer protection, personal injury, sexual harassment, legal malpractice, trade secrets, and auto liability. She has taken on some of the largest companies in the world, including prosecuting national class action cases against billion-dollar companies. Ms. Harvey has also championed a number of wrongful death and consumer fraud cases against major automotive manufacturers.
Ms. Harvey's dedication to her clients has paid off. For three years in a row, Ms. Harvey achieved the honor of being named to Southern California Rising Stars – a distinction given to those attorneys who are under 40 and have demonstrated remarkable excellence in the profession. The Rising Stars distinction is limited to just 2.5 percent of the attorneys under 40 in the state.
Prior to joining Wesierski & Zurek LLP, Ms. Harvey earned her Bachelor of Arts degree in Social Science for Education from San Diego State University in 1999. After graduating from San Diego State, Ms. Harvey spent a year working on the Mississippi Queen, a steamboat cruising along the Mississippi, Ohio, and Tennessee Rivers. Upon returning to San Diego, Ms. Harvey attended the University of San Diego School of Law, graduating in 2005 at the top of her class.
While attending law school, Ms. Harvey received honors for representing indigent clients at the school's Civil Law Clinic. Harvey was also named "Best Advocate" in her legal research and writing class and was a member of Phi Delta Phi, an honors legal society.
Membership
State Bar of California, admitted December 2005
United States Court of Appeals, Federal Circuit
United States District Court, Federal Circuit
United States District Court, Central District of California
United States District Court, Northern District of California
United States District Court, Southern District of California
Honors & Highlights
2016 Southern California Rising Star (Super Lawyers)
2015 Southern California Rising Star (Super Lawyers)
2014 Southern California Rising Star (Super Lawyers)
Disclaimer
©2023 Wesierski & Zurek LLP. All Rights Reserved. The material and information contained on these pages and on any pages linked from these pages are intended to provide general information only and not legal advice. You should consult with an attorney licensed to practice in your jurisdiction before relying upon any of the information presented here. The acts of sending emails to this website or viewing information from this website do not create an attorney-client relationship. The listing of verdicts, settlements and other case results is not a guarantee or prediction of the outcome of any other claims. A LawPromo Web Design