Paul J. Lipman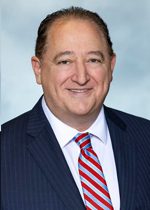 Practice Areas
Insurance Defense
Commercial Litigation
Transportation Litigation (Buses, Taxis, Trucks, & Ambulances)
Premises Liability (High-End Hotels & Retail, & Commercial Properties)
Class Actions
Appeals
Food Borne Illness Claims
Suspicious or Fraudulent Claims
Products Liability
Tender of Defense, Indemnity Issues
Insurance Defense
Commercial Litigation
Transportation Litigation (Buses, Taxis, Trucks, & Ambulances)
Premises Liability (High-End Hotels & Retail, & Commercial Properties)
Class Actions
Appeals
Food Borne Illness Claims
Suspicious or Fraudulent Claims
Products Liability
Tender of Defense, Indemnity Issues
Educations
University of California in Los Angeles
Loyola Law School
Paul Lipman is a partner who attended UCLA and then Loyola Law School. He specializes in insurance defense and commercial litigation, including transportation litigation (buses, taxis, trucks, and ambulances), premises liability (high-end hotels, commercial and retail properties), class actions, product liability, food-borne illness claims, and tender of defense and indemnity issues.
Mr. Lipman is certified to practice before in the 9th Circuit, the U.S. District Court for the Central District, and the California Supreme Court.
Mr. Lipman has handled many cases involving MICRA, government liability and immunity, and other sub-fields of civil litigation. He has a specialty in hotel defense and has successfully litigated many hotel securities, slip and fall, food poisoning, and other cases to conclusion. Mr. Lipman is also active in defense of class action with a focus on reshaping the requirements of low-cost item class action, where courts have so far been liberal in allowing such classes to be certified despite the practical impossibility of ever identifying a significant percentage of actual individuals who purchased low-cost items.
Mr. Lipman has published numerous articles relating to civil procedure, particularly summary judgment, and is the continuing editor of the chapter on summary judgments in CEB's three-volume treatise, Civil Procedure Before Trial. Mr. Lipman is the editor of the firm's newsletter. He also handles the writs and appeals and coverage issues for the Los Angeles office. Mr. Lipman coordinates MCLE presentations for the Los Angeles Office. Mr. Lipman gives seminars on the topics listed above and welcomes the opportunity to discuss doing one for you on topics of interest to you.
Disclaimer
©2023 Wesierski & Zurek LLP. All Rights Reserved. The material and information contained on these pages and on any pages linked from these pages are intended to provide general information only and not legal advice. You should consult with an attorney licensed to practice in your jurisdiction before relying upon any of the information presented here. The acts of sending emails to this website or viewing information from this website do not create an attorney-client relationship. The listing of verdicts, settlements and other case results is not a guarantee or prediction of the outcome of any other claims. A LawPromo Web Design